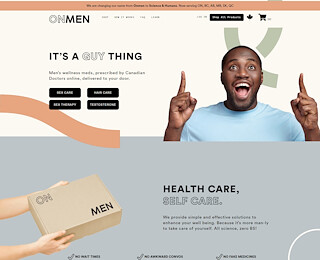 OnMen is a leading telemedicine company bringing together some of the top hair and scalp specialists in Toronto to offer comprehensive solutions for male pattern baldness. We provide unsurpassed hair loss treatments in Toronto with topical and oral medications that prevent hair loss and stimulates the growth of new hair.
Top reasons to purchase our products for hair loss
We are a leading telemedicine services company for men related problems like ED and hair loss. Here is a list of some of our top-selling hair care products:
Finasteride (1mg)
Finasteride is one of our oral medications developed to help to treat male pattern baldness. It is highly effective in stimulating hair growth at the crown and in the middle of the head. The most affordable on the market, our product costs only $150 per box (of 90 pills). We are also one of the few hair and scalp specialists in Toronto to offer an automatic refill option once every three months.
Topical Finasteride + Minoxidil Solution
Topical finasteride contains 5% minoxidil and, for this reason, works exceptionally well in treating male pattern baldness. One bottle contains 100ml of 5% minoxidil, but we also custom-compound every single formula to best address each patient's hair-related needs. This topical spray helps prolong the growth phase of the hair follicles and stops hair loss.
You can also order our high-efficiency pack and get both the oral and topical medication at a discounted price of $210. We save our clients from the trouble of drugstore pickups by offering delivery of the medications to your door in discreet packaging.
Ways to prevent hair loss and baldness in men
If you have a family history of male pattern baldness, you must take certain precautionary measures to reduce your chances of inheriting the condition. Make sure to eat a healthy diet filled with lean proteins, soy, iron-rich leafy greens, nuts and seeds, and healthy fats. These foods not only prevent hair loss but also help getting a lustrous hair texture.
Dehydration can compromise the strength of your hair follicles and lead to breakage and hair loss. Be sure to drink lots of water throughout the day to combat hair fall. Stress, genetic composition, health issues, and vitamin deficiency are some of the other causes of hair loss in men. Get into the habit of taking Vitamin A, Vitamin B, and Vitamin E supplements regularly to avoid losing hair and to nurture the growth of new hair.
Best hair loss treatments for men
Over-the-counter medications such as Minoxidil and Finasteride provide excellent results when used to treat hair loss and male-pattern baldness. A hair transplant surgery is another option. However, the surgery can be highly expensive and involves some risks. We are one of the popular treatments for hair loss in Toronto, and we guarantee permanent relief from hair fall and hair loss issues at affordable prices.
Visit https://www.onmen.ca/getstarted/ today to get started on your hair loss treatment. At OnMen, we offer the best hair loss treatments in Toronto with our telemedicine services. Call or visit https://www.onmen.ca/product/hair/ to buy our range of best male hair loss products online.
Hair Loss Treatment Toronto
We welcome your comments!